University Research Project Topics In Education | EduProjects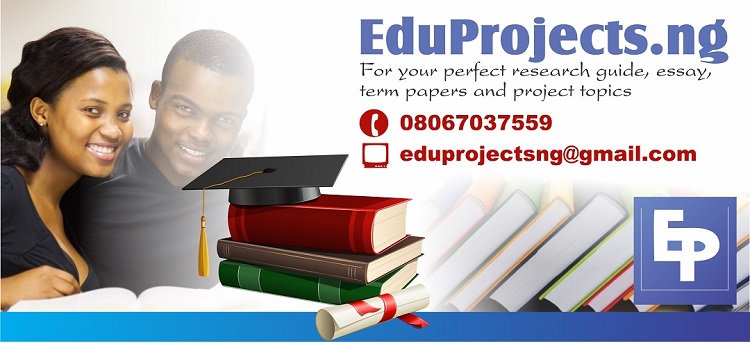 Get Final Year Research Topics from EDUPROJECTS.ng
Eduprojects.ng is a reputable online resource center where you find thoroughly researched final year project topics and materials, undergraduate research works and post graduate theses in education, accounting, economics, human resource management, banking and finance, computer science and other departments for the award of BSC, MSC/MBA, HND and Diploma.
Our Services, and How we Operate

All Projects are for SALE
All Projects, posted here are purely Ready-made Projects. With documentation.
All Projects are Genuine and Fully 100% tested projects.
You are advised to choose a project topic, get an approval from your supervisor before buying.
Students are also advised to view the abstracts clearly (posted in our website) before going to buy the project.
Any statistical data, inputs, outputs, tables and diagrams presented in these projects are already done by various students.
Complete Project Data and Full Project Documentation Reports will be provided by us along with the project.
For MBA Project, Documentation contains everything.
After full payment, the project will be sent to your email within 10 minutes after payment is confirmed.
If you need synopsis in some specific format other than what is listed on our website it will cost you extra.